---
Leaders of the Group Company Inspected Changzhou Composite Material Base
---
On March 17, 2006, Yao Yan, General Manager of China Building Materials Group, and Guo Chaomin, Deputy General Manager, accompanied by Shen Yaping, Deputy General Manager of China Composite Materials Group and Chairman of China Composite Libao Group, inspected the Changzhou Composite Materials Base of China Building Materials Group in the rain.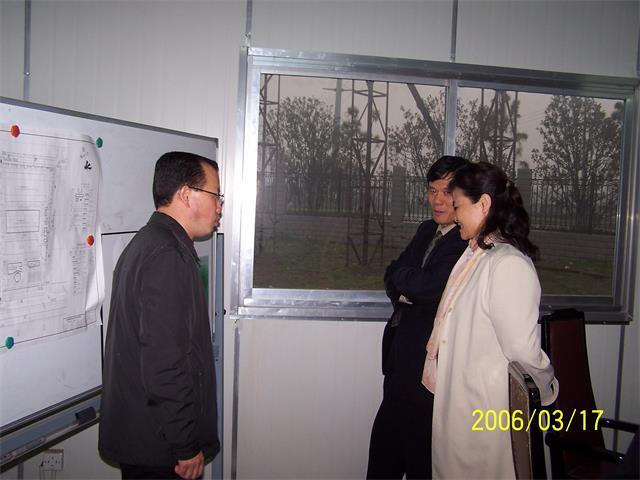 At the project construction headquarters, Yao Yan listened to the work report on the construction of the park and the project in detail. She fully affirmed the regional advantages, base planning, project construction progress, and subsequent project construction of the development zone, and expressed that the group company would fully support the construction of the composite material base and the project. Yao Yan, General Manager, and Guo Chaomin, Deputy General Manager, have repeatedly emphasized that it is necessary to select the right project, especially to work hard on scientific and technological innovation. It is necessary to actively bind with the internal medicine research institutes of the Group, give play to their respective research and development advantages, and join hands to jointly build a technological innovation and communication platform, complement each other's advantages, and integrate resources around the goal of achieving the commercialization, marketization, engineering, and internationalization of scientific and technological resources, Carry out more original technological innovation, form core businesses with independent characteristics as soon as possible, and strive to build the composite material base into an important innovation "cradle" of China Building Materials Group by 2010, creating a virtuous industrial ecosystem with circular flow of talents, funds, and technology.
During their stay in Changzhou, Yao Yan and his delegation also visited Libaodi Group Co., Ltd., Changzhou Libaodi Dongli Building Materials Co., Ltd., and Changzhou Zhongxin Tianma Glass Fiber Products Co., Ltd. Xing Ning, Deputy Chief Economist of the Group Company, accompanied the inspection.