---
Zhang Jindong and his team inspected the "Thin felt+" test line of Zhongfu LibaoDi
---
On June 3, 2021, a delegation led by Zhang Jindong, Vice President of China Building Materials Corporation, visited the "thin felt+" test line (special functional material production line) of Zhongfu Libao, accompanied by Shen Yaping, Deputy General Manager of China Composite Materials Corporation, Secretary of the Party Committee and Chairman of Zhongfu Libao Corporation, and He Jixiu, Deputy Secretary of the Party Committee and Secretary of the Discipline Inspection Commission of China Composite Materials Corporation.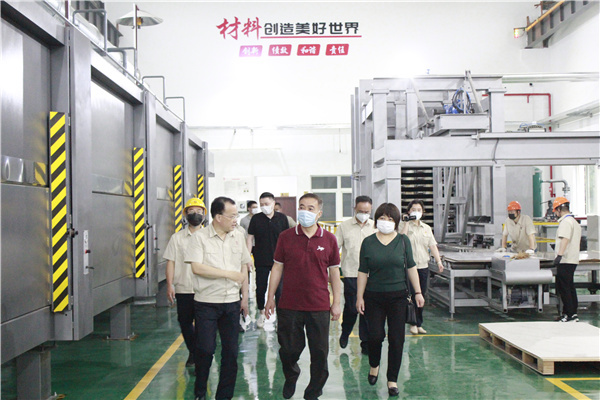 On the site of the "thin felt+" test line, Zhang Jindong stopped from time to time to inquire in detail about the product performance, production process, technical secrets, and market prospects of special functional materials. When he learned that the product had been successfully tested on the test line on April 2, marking that Zhongfu Libaodi had become a successful manufacturer of this performance product in China, he greatly appreciated it and fully affirmed the success achieved by Zhongfu Libaodi in product innovation, transformation and upgrading, and green development in recent years.
Zhang Jindong stated that the new materials business, as one of the three major business segments of China Building Materials Group, is increasingly playing a pivotal role in the high-quality development of the group. He instructed Zhongfu Libaodi to adhere to the group's corporate mission of "creating a better world with materials", always practice the core values of "innovation, performance, harmony, and responsibility", fully rely on the advantages of the group's upstream and downstream industrial chain, and spare no effort to grasp the continuous, stable, and reliable operation of the "thin felt+" test line, achieve mass production as soon as possible, increase market promotion efforts, and accumulate experience and create conditions for subsequent large-scale line construction, Make new and greater contributions to the high-quality development of the Group.
Focusing on the main business, fully relying on the uniqueness of the developed and enhanced base material special thin felt raw materials and the originality of technology, we have developed special functional materials that meet the requirements of resource conservation, space function, and environmental protection and freshness. The main characteristics of the product are that it has a fire protection rating of Class A, is green and environmentally friendly (aldehyde free), has high safety, strong functionality, good processing performance, and wide substitutability. The market capacity is very large, which can greatly reduce the exploitation, development, and utilization of natural resources such as wood and stone, guide the formation of a green low-carbon production and lifestyle, save resources, and protect the environment, and will definitely make a positive contribution to the national "3060" carbon peak and carbon neutral goal.