---
China National Building Materials Group Climbs Consistently in the Top 500 Global Brand Value List
---
On January 26, Brand Finance, a British brand finance consultancy, released the "Brand Finance Top 500 Global Brand Values 2022" to the public. For the fourth consecutive year, CNBM was listed in the list, and on the basis of the 84th place improvement last year, it steadily improved 20 places again this year to the 249th place.
Brand Finance to CNBM Group:
In the just-released Brand Finance Top 500 Global Brand Value Report 2022, CNBM Group achieved a new high in the Brand Finance brand value ranking by bucking the global epidemic and increasing its total value by 17% and steadily jumping 20 places to 249th in the global ranking.
The total brand value of Chinese (including Hong Kong SAR and Taiwan) brands accounted for 19% (US$1.6 trillion) of the top 500 global brands released, including ICBC, WeChat, State Grid and Alibaba, ranking second in the world in terms of total cumulative brand value.
Steady development of the "Tripod"
CNBM Group is the world's largest integrated building materials industry group, the world's leading developer and integrated service provider of new materials, and has been ranked on the Fortune 500 list for 11 consecutive years, with revenue of 415.3 billion yuan in 2021, 200,000 employees, and the world's largest scale of seven businesses;

As the world's largest cement manufacturer, CNBM has 379 new dry-process cement production lines, develops solid and hazardous waste and domestic waste co-disposal, has core technology and equipment for waste heat power generation, and is committed to building a global leading industrial system that is "high-end, intelligent and green";

CNBM Group's new materials business has achieved "acceleration", 7 National Science and Technology Progress Awards, 4 Industry Awards, selected by the State-owned Assets Supervision and Administration Commission to build a list of original technology curators of central enterprises, conquered many "neck" technologies, initiated the establishment of 15 billion new materials fund to help open the "valley of death" for the transformation of results, and committed to high-end, mass production and globalization of new materials business;

CNBM Group engineering services to build a "new business card" of internationalization, with industrial empowerment, labeling output, model innovation as the structure, accelerate the construction of globalization, localization, diversification, to help the construction of "one belt and one road", to build a community of human destiny.
Promote the Group's high-quality development
In 2021, the enterprises of CNBM Group concentrated their efforts on implementation, tackled difficulties and achieved excellent results in promoting the Group's high-quality development, realizing a good start of the 14th Five-Year Plan. Net profit for the year increased by 43% year-on-year, total profit increased by 30% year-on-year, and net profit, salary, interest and tax contributed a total of RMB 102.4 billion to society, fully exceeding the annual operating target;

Deepen the reform and optimize the structure of high-quality development.Deepen the implementation of the three-year reform of state-owned enterprises, complete more than 90% of the tasks, mixed ownership of enterprises in a hierarchical and categorical delegation of power, adhere to the "4335" principle, deepen the state-owned capital investment company pilot;

Strengthen innovation to create a high-quality development engine.To improve core competitiveness by scientific and technological innovation, to improve quality and reduce cost and increase efficiency by management innovation, to promote win-win situation for stakeholders by business model innovation, and to stimulate vitality and sustainable development momentum by institutional mechanism innovation.

Practicing "double carbon" and improving the quality of development.We will unswervingly take the road of ecological priority and green low-carbon development, implement the requirements of the "two high" policy, do a good job of carbon reduction, carbon sequestration and carbon management, guard the green water and green mountains with green technology, purify the ecological environment with green manufacturing, and promote energy substitution with green industry.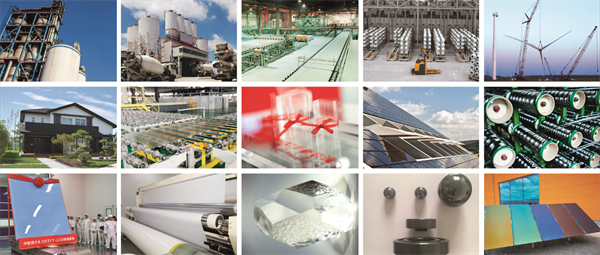 Continuous enhancement of corporate brand influence
Fortune World 500:No. 177 Top Global Building Materials Company
Top 500 Chinese Companies:59th place
Top 500 manufacturing enterprises in China:16th place
Top 100 Chinese Multinational Companies and Multinational Index:62nd place
Top 100 Strategic Emerging Industry Leaders in China:23rd place
China's Top 100 Large Enterprise Innovators:56th place
China's 500 Most Valuable Brands:46th place
Top 500 Asian Brands:81st place
China Top 500 Building Material Enterprises:1st place