---
Extraordinary Decade - Special Report ② | CNBM: New Material Industry Logic
---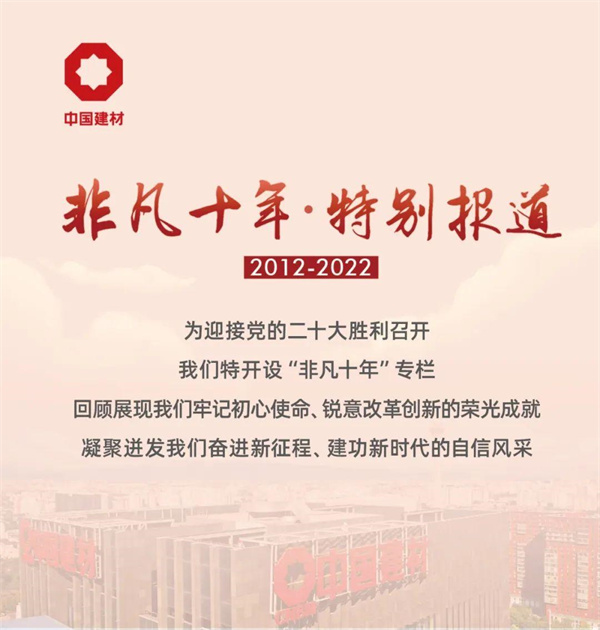 Recently, Enterprise Watch
made an in-depth series of reports on our new materials industry
A comprehensive picture of CNBM Group
The "Greatness of the Nation" in mind
The role and achievement of building "national great materials"
The following small material will share the series of reports to you
China Building Materials: New Material Industry Logic
As the saying goes, "a generation of equipment, a generation of materials", the development of many new industries can not be separated from the support of new materials.
General Secretary Xi Jinping has stressed that the new materials industry is a strategic and fundamental industry, but also a key area of high-tech competition, China should catch up and catch up. In the "Fourteenth Five-Year Plan", the new materials industry is also one of the key areas that require focus.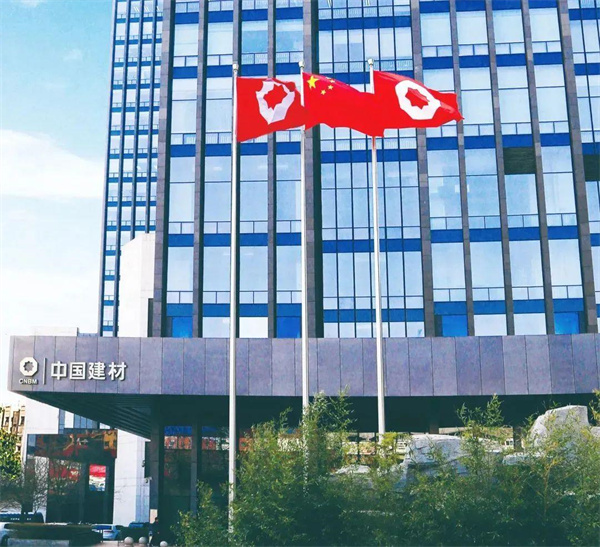 Zhou Yuxian, Secretary of the Party Committee and Chairman of the Board of Directors of CNBM Group, said that the materials industry occupies a fundamental position in the modern industrial system, and the development of new materials is an inevitable requirement for China to transform from a manufacturing power to a manufacturing power, and a fundamental measure for China to get rid of the dilemma of "stuck neck" in key materials and technologies.
As the world's largest comprehensive building materials industry group and the world's leading developer and comprehensive service provider of new materials, CNBM is the only central enterprise in the field of inorganic non-metallic materials in China. Over the years, the group has positioned the new materials industry as one of the group's main businesses along with basic materials industry and engineering services. 2021, the group's new materials business segment grew faster than the company's overall growth rate, and its gross margin even achieved counter-trend growth. The segment's operating revenue and total profit accounted for 22% and 42%, and has the advantages of fast growth and high potential.
Since the "two materials reorganization", CNBM Group has continuously integrated internal and external new materials resources, and injected strong industrial and scientific research strength into the development of new materials business. As always, the Group is writing a new chapter of reform and innovation, effectively bringing into play the characteristics of the new materials industry, better meeting the needs of the great rejuvenation of the country and the good life of the people, and contributing to the realization of a high level of self-reliance and self-improvement of China's materials industry.
01 "Four Services"
In the process of developing new material industry, CNBM Group puts forward the goal of "four services", i.e. serving national defense construction, serving national major projects, serving the main battlefield of national economy and serving people's good life.
In the service of national defense construction,
CNBM Group has a large number of new materials widely used in aerospace, naval and other major national projects, carbon fiber composite load-bearing structural parts for the core module of the sky and the cargo spacecraft, Shenzhou 12, Tianqian 1 and other major national projects, quartz glass to help Chang'e 5, honored on the lunar exploration project achievements exhibition.
In the service of national major projects,
CNBM Group has contributed the key technology of low-heat cement to Baihetan Hydropower Station, provided the whole process of supervision and technical services, and exclusively supplied 1.33 million tons of low-heat cement to build a "seamless dam" and a safety barrier. The special cement for Sichuan-Tibet project has passed the trial verification and will be widely used in high altitude areas.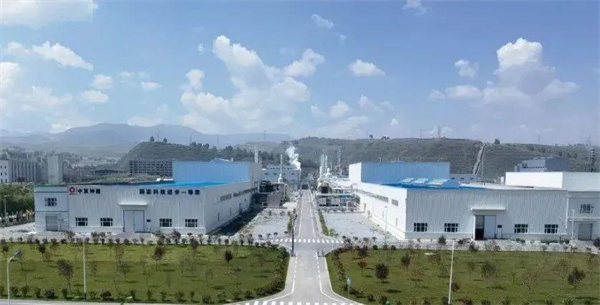 The first domestic 10,000-ton high-performance carbon fiber production base▲
In the service of the main battlefield of the national economy,
The carbon fiber enterprises under CNBM Group have achieved the independent control of high-end carbon fiber complete sets of technology, 100-ton T1000 and 1,000-ton T800 carbon fibers to meet the aerospace supporting needs, and built the first 10,000-ton high-performance carbon fiber production base in China.
Aiming at the major strategic needs of domestic large aircraft and aero-engine, CNBM Group, COMAC and CAF have launched joint research and development around the localization of T800 grade carbon fiber and prepreg, aircraft main bearing structure and secondary bearing structure, key components of aero-engine, etc., and obtained the qualification of supplier for three fuselage sections of domestic aircraft. Developed ultra-fine electronic glass fiber with single filament diameter of 4.1-5.5 microns, which has been applied to downstream end products in batch. The key technology of 8.5 generation TFT-LCD glass substrate has been overcome, achieving a zero breakthrough in China's high generation LCD glass substrate, successfully entering the domestic BOE and Huike large-size LCD panel production system, ensuring the security of China's information industry chain. 0.03mm foldable flexible glass has formed a fully localized industry chain. Large diameter RTP (Rubidium Oxide Titanium Phosphate) crystal passed the engineering application verification and has the basis of batch import replacement application. Hot isostatic pressure silicon nitride ceramic ball to achieve batch production, high thermal conductivity silicon nitride substrate to accelerate industrialization, used in new energy vehicles, ultra-high voltage, high-speed rail and other fields.
In the service of people's good life,CNBM Group more new materials to "fly into the ordinary people's homes". The most common glass, a silicate class of amorphous inorganic non-metallic materials, with good plasticity and permeability, not only as a daily construction materials, but also widely used in the manufacture of display components, photovoltaic power generation equipment and other glass materials. For example, each smartphone includes a high-strength cover glass, ultra-thin touch glass, internal injection display liquid crystal two thin film transistor liquid crystal display (TFT-LCD) glass substrate three 4-layer display glass, with a high technological content.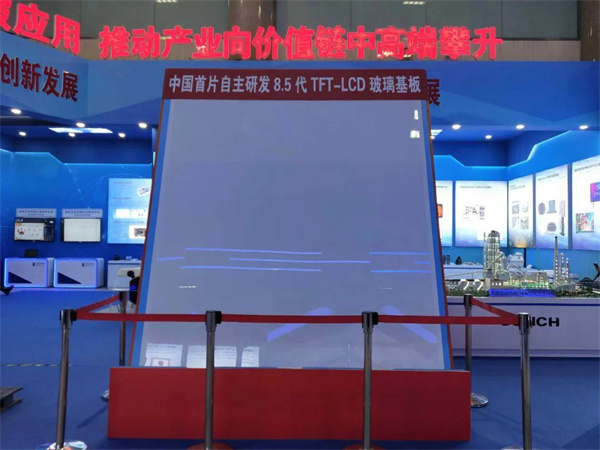 8.5 generation TFT-LCD glass substrate ▲
By strengthening R&D and integrated innovation, CNBM Group has achieved breakthroughs and industrialized mass production of key core technologies such as the world's thinnest 0.12mm ultra-thin electronic touch glass and 0.03mm flexible foldable glass, greatly advancing the localization process in related manufacturing fields. The self-developed copper indium gallium selenide (CIGS) and cadmium telluride (CdTe) power generation glass is used for building power generation, and the world's largest single 120,000 square meters thin film photovoltaic integrated building has been built, with a total installed capacity of 100 MW.
02 Innovative Achievements
CNBM Group attaches great importance to the transformation and industrialization of scientific and technological achievements in the new material industry.
As the "national team" in the field of inorganic non-metallic materials, CNBM Group has entered the strategic emerging industries with the spirit of building "national materials", innovated the main battlefield of the industry, increased state-owned capital investment in "neck" materials and technologies, implemented the responsibility of central enterprises in a market-oriented way, and promoted the transformation of scientific and technological achievements.
CNBM Group has always put innovation-driven as the top of its strategy, actively playing the advantages of 26 national research and design institutes and 38,000 scientific researchers to improve its core competitiveness with scientific and technological innovation, improve quality and reduce cost and increase efficiency with management innovation, promote win-win situation for stakeholders with business model innovation, and stimulate vitality and sustainable development momentum with institutional mechanism innovation. Continuously promote the development of digital transformation of the Group, especially accelerate the pace of digital transformation of basic building materials, which has already achieved good results.
CNBM Group is constantly expanding for the application market, carrying out technical exchanges, adopting various ways such as scientific and technological cooperation, technology transfer, joint development and utilization of resources, and participation in the formulation of international standards to expand the influence and discourse of China's new material technology innovation in the world. Focusing on the national strategy and the high-quality development needs of CNBM Group, we always insist on open sharing and collaborative integrated innovation, take advantage of the scale of application scenarios of large manufacturing enterprises within the group, between central enterprises, between production and research, promote the combination of production, academia, research and application, the connection of upstream, midstream and downstream, and the synergy of large, medium and small enterprises, and promote the construction of national "double carbon" in raw materials industry. Public service platform, composite materials industry center, national glass new materials innovation center, and actively organize new materials industry technology innovation alliance to create a joint innovation body for science and technology.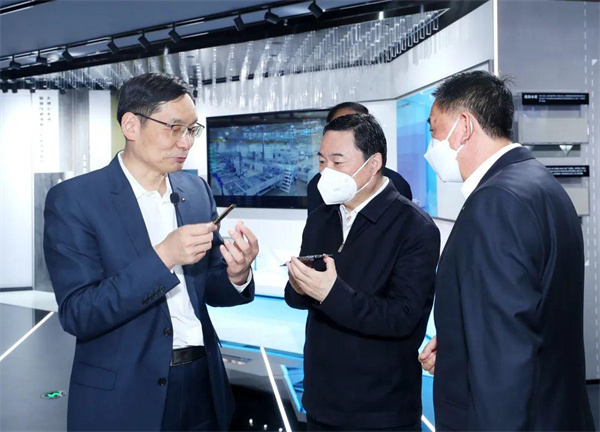 On May 17, Hao Peng, Secretary of the Party Committee and Director of SASAC, visited CNBM Group for research, and Zhou Yuxian introduced the electronic products of the new material "low dielectric glass fiber cloth" ▲
On the premise of taking into account the market revenue, CNBM Group fully respects the laws of long-term continuous investment and high risk of investment in the field of new materials, sets the standard for good cadres of state-owned enterprises as "loyal to the Party, innovative, good at governing the enterprise, prosperous, clean and honest", focuses on the goal of China's leading and world-class, and gives full play to the role of new material innovators. We will give full play to the role of new material innovation obsessives, build platforms, build ladders, send care to them, encourage innovation, tolerate mistakes, and create a career-focused growth environment for entrepreneurs. Effectively enhance the innovation concept of personnel at all levels, form a culture of linking up and focusing on innovation, and attract and cultivate a group of excellent entrepreneurs. We will carry out management improvement actions against the world's best, implement the "three fine management" of lean operation, healthy organization and fine management, and create conditions and environment conducive to scientific and technological innovation.
CNBM Group also deepens the reform and innovation in terms of employment system, incentive mechanism, talent training and talent reserve, and provides strong support for building innovation ecology with first-class talents, first-class teams and first-class policies. New materials industry has high R&D cost, difficult industrialization and long investment return cycle, which needs to rely on institutional reform to resolve resistance and stimulate vitality. CNBM Group accelerates the reform pilot, improves the market-oriented talent mechanism, promotes a series of institutional mechanism innovation suitable for the material industry and enterprise characteristics, and stimulates the innovation enthusiasm of scientific researchers and cadres and employees. Deepen the three-year action of state-owned enterprise reform, continuously deepen the reform of three systems, and innovate the mechanism of talent introduction. From the practical point of view, the self-developed scientific and technological achievements are divided into three categories, A, B and C, respectively, A achievements formed by serving the national strategy, B achievements formed around the main business of the Group and C achievements that can be transformed to the outside world. According to the categories of achievements, a multi-level and systematic positive incentive system is established in accordance with the medium and long-term incentive and constraint guidelines and seven supporting guidelines. Select some science and technology-based enterprises to pilot the incentive mechanism for the participation of scientific and technological factors in the distribution. Promote the conversion of research institutes, high-tech enterprises, listed companies to carry out incentives such as equity incentives, market-based salaries, rewards for the transformation of scientific and technological achievements, shareholding of key employees and follow-on investment, and implement the group's key core technology research projects to "unveil the list to hang" to provide an innovative arena for scientific and technological talents, so that innovative talents and enterprises share the market risk and share the fruits of development, Share the fruits of development, let the scientific and technological personnel reflect the value in the transformation of results, and inject lasting power and vitality for scientific and technological innovation.
03Investment driven
As one of the five state-owned capital investment companies, CNBM Group is actively using its advantage of "outstanding capital operation capability" to expand its influence in the field of new materials through various market-oriented means and build itself into the "chain leader" of multiple industrial chains.
In October 2021, Kaisheng, a listed company of CNBM Group, disclosed that it intends to raise up to 1.5 billion yuan from up to 35 (including) investors, including the controlling shareholder Kaisheng Technology, for the second phase of the flexible glass (UTG) project and the Shenzhen Guoxian new display R&D and production base project, and to repay interest-bearing liabilities and replenish working capital.
The announcement shows that the fund-raising projects are all important development directions for new display applications, in line with China's strategic emerging industries development plan. This move is conducive to the company to grasp the most cutting-edge technology in the market, quickly seize the flexible display materials and touch display integration module market segments, and expand the company's technological leadership in the field of display materials in order to achieve steady and rapid development.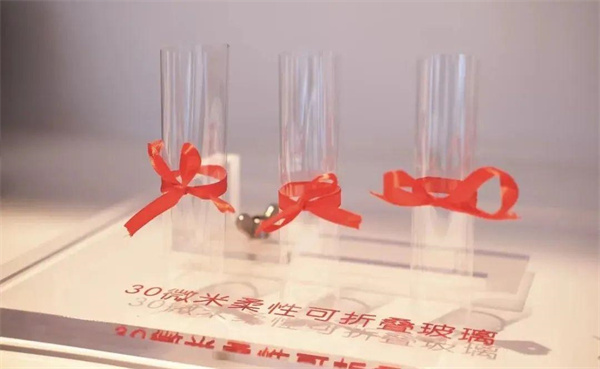 30 micron flexible collapsible glass ▲
In May this year, Kaisheng shares and intends to about 544 million yuan to acquire the controlling shareholder Kaisheng Technology holds the Longhai glass, Longmen glass, Bengbu in the display of the three information display glass production enterprises. These three enterprises are mainly engaged in electronic display glass manufacturing, the upstream of the new display business for Kaisheng shares, and in ITO conductive glass and other products with Kaisheng shares have good cooperation. Kaisheng shares said that the merger is the company bigger and stronger display materials and application materials business integration arrangements, the company's new display business will be expanded to the upstream industry chain, the acquisition of the company will cut from the glass downstream processing to the electronic glass substrate industry, can strengthen the upstream and downstream synergies, improve profitability.
Since this year, CNBM Group's well-known third-party inspection and certification body NSIQ Group around the regional business layout of the asset integration action is frequent. NSIQ Group has proposed to take 49% equity interest in Huake Testing, 49% equity interest in NSIQ Zhejiang and 51% equity interest in Cloud Testing during the year to integrate the layout of business resources in Central China, Yangtze River Delta region and Southwest region.
CNBM Group's Beixin building materials, Tianshan shares, Sinoma International, China Jushi, Sinoma Technology, etc. also intends to issue short-term financing bonds, medium-term notes, green corporate bonds and other ways to finance the "blood".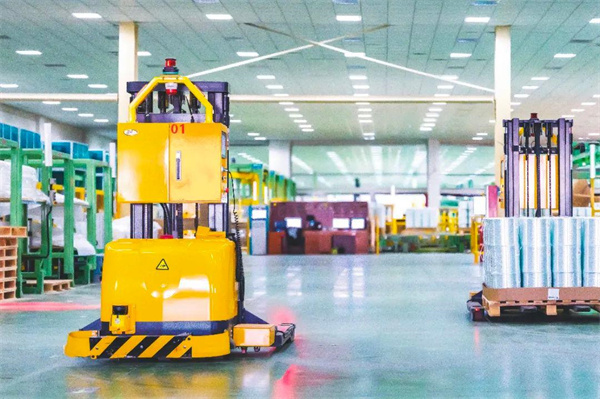 In China Jushi inspection and assembly workshop AGV carts are automatically carrying glass fiber products to be shipped around the world ▲
At the same time, CNBM Group also cooperates with several central enterprises and local governments to jointly establish a new materials fund to promote the positive development of the industry in a comprehensive manner. With a 30% contribution to drive 70% of financial capital and social capital, the fund focuses on investment in advanced new materials industry in the field of inorganic non-metals. In cooperation with Anhui government, CNBM Group has invested more than 20 billion RMB and formed an advanced and complete industrial layout in the province, including basic building materials, new materials, high-end equipment manufacturing, geological survey and inspection and other technical services, with generally good investment and operation. Taking silicon-based new materials business as an example, it has broken the foreign technology blockade and successfully mass-produced the world's thinnest 0.12mm ultra-thin electronic touch glass, 0.03mm flexible foldable glass, China's first large-area 8.5 generation TFT-LCD liquid crystal glass substrate, copper indium gallium selenide power generation glass with world record conversion efficiency, etc. These new materials are important for comprehensively enhancing China's electronic glass in the international market's discourse and These new materials are of great significance to comprehensively enhance the discourse and initiative of China's electronic glass in the international market and guarantee the security of China's information display industry chain.

At present, CNBM Group accelerates the transformation from "managing enterprises" to "managing capital" around the function and positioning of investment companies, and improves the resource allocation capacity by gradually increasing the proportion of income collection of state-owned capital. The proportion of income collection from secondary enterprises has been increased to no less than 35% for listed enterprises and 50% for non-listed enterprises, and the dividends obtained are focused on new materials business, so as to build a capital ecology of "supporting strategic emerging business with mature business". The capital ecology of "supporting strategic emerging business with mature business" will be built. The advantageous resources will be gathered to the national strategic emerging industry to stimulate new vitality.